Saranac Lake Fish And Game Club Events
10 GUN RAFFLE AND PICNIC: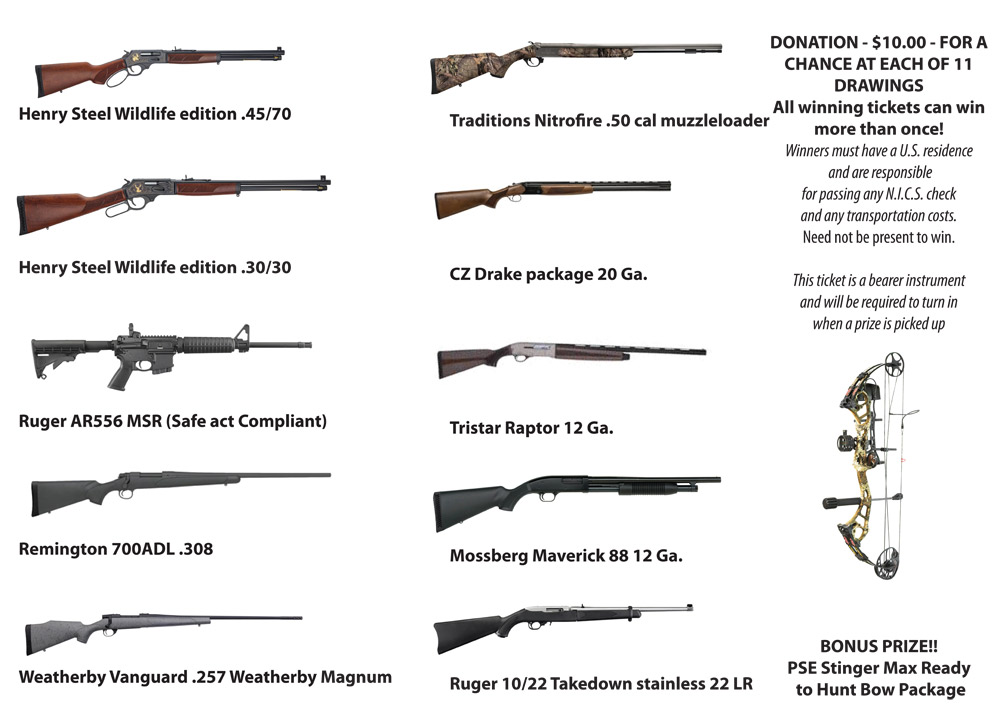 The Raffle and Picnic will be held on a Saturday. Raffle winners win either a gun or a compound bow. This is the club's biggest fundraiser for the year. Only $10 per ticket.
When - September 10th Picnic to begin at Noon (12pm) with drawing to follow
What - 10 gun raffle with bonus Compound Bow
How - Click here to Buy Raffle Tickets
KIDS FISHING DERBY 2022: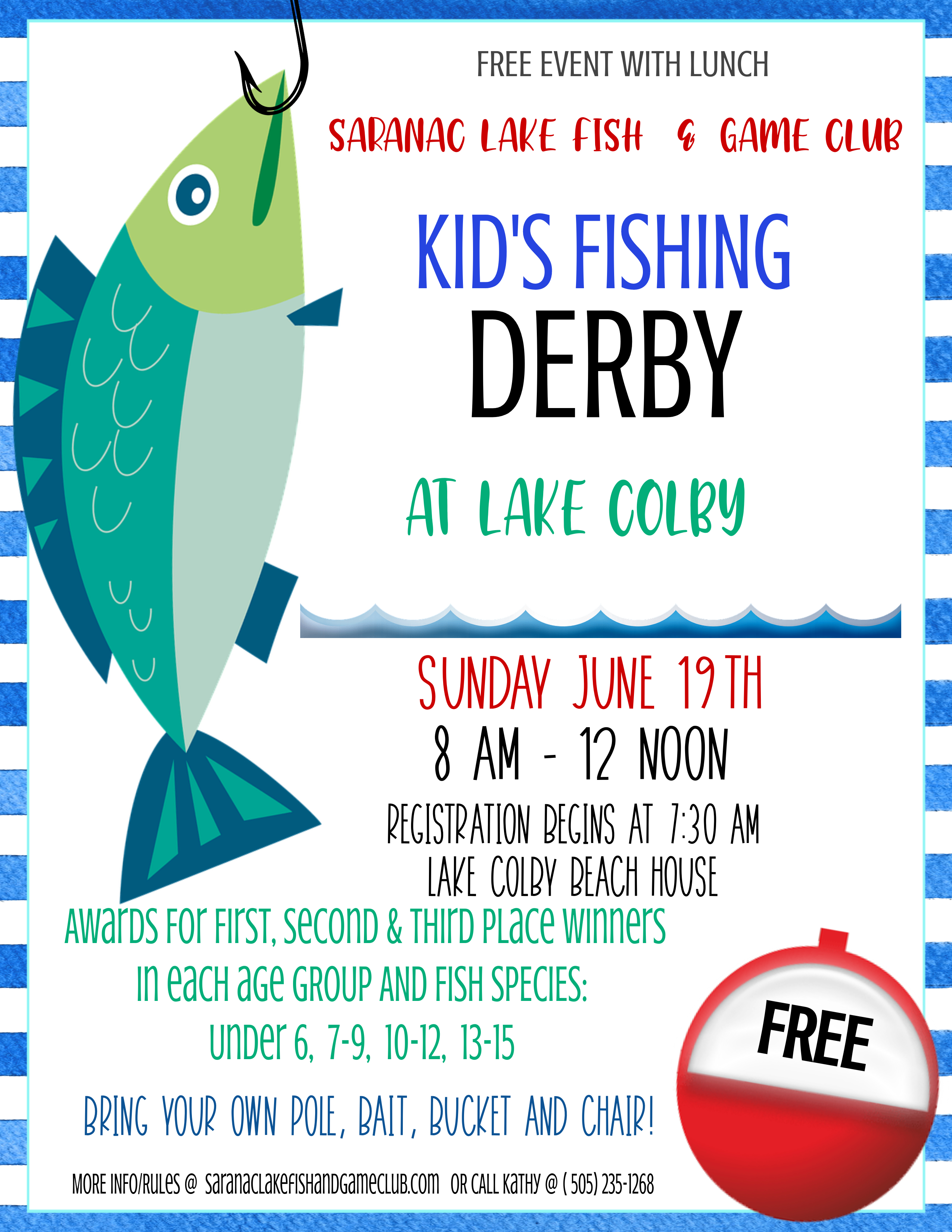 Participants must follow all rules and regulations herein and abide by all applicable water and fish and game laws or shall be disqualified. New York Environmental conservation officers may be present at the derby. 1. You must register before participating in the derby at the Lake Colby beach house starting at 7:30 am on June 19, 2022.
2. Participants must be younger than, and not including 16 years of age. The prize categories are for ages: 6 & under; 7-9, 10-12 and 13-15 years of age. Each participant must be accompanied by an adult.
3. All fish must be caught between 8:00 am and 12:00 pm in Lake Colby using your own gear and bait.
4. Prizes will be awarded for the top three longest fish in each of the 5 fish categories and age groups. In the case of a tie, the winner will be the first entered.
5. The 5 fish categories are as follows: Trout; Salmon; Perch; Small and Large Mouth Bass; Pumpkinseed/Shiners/Rock Bass/Sunfish.
6. No fish will be accepted as valid after 12:15 pm on the day of the derby.
7. All fish will be measured for length.
8. If a tagged salmon is caught, a prize of $25.00 will be awarded. This does not exclude that fish from winning an additional prize based on length.
9. The Derby Judge has the right to disqualify any entry he/she determines was obtained in an unsportsmanlike manner or appears, in his/her judgment, to have been falsified or in violation of the derby rules. The Derby Judges' decision is final.
10. The prizes will be awarded at 12:30 pm on the day of the derby at the Lake Colby beach house. We expect fish entered to be caught and reeled in by the youth. An adult may assist, but we expect that youth has caught that fish. Remember that when an adult catches a fish for a youth, and enters that fish, another youth is being denied his entry. Teaching responsible fishing starts with adults abiding by the rules & regulations. GOOD LUCK! Fish at Your Own Risk: By entering this derby, all participants agree that no persons, organizations, State, or federal agencies involved in this derby shall have any liability for accidents or injuries incurred while fishing or during travel to or from the derby. COLBY CLASSIC FISHING DERBY: The Colby Classic Ice Fishing Derby is held on the first weekend of March on Lake Colby. Registration, before fishing, is between 7:00am and 4:00pm each day. The registration area is at the Lake Colby Public Beach. Prizes are awarded for the heaviest fish in its category. There are four categories: perch, trout, salmon and northern pike. All perch, trout and salmon must be taken from Lake Colby. Since northern pike are not available in Lake Colby, pike may be fished in other local waters. There is also a door prize for all entrants. GUN SHOW: Gun shows are held at the Club on a weekend in January and in July respectively. Dealers from the around the North Country display their stock, providing opportunities for buying and selling firearms, ammunition and accessories. TRUDEAU BIG BUCK CONTEST: The Trudeau Big Buck contest has been held annually for many years. Past winner names can be found on the plaques in the first room of the Club House. Any one can enter but you must enter prior to the opening of the season you plan to hunt. For example, if you are going to hunt in the archery season you must enter before that season starts. Early muzzle-loading big game is in the contest but late muzzle-loading in the Saint Laurence area is not. In most years, the only place to sign up is at the Blue Line Sport Shop in Saranac Lake (81 Main Street). The cost to enter includes all big game seasons. All entries must be weighed at the Blue Line Sport Shop and must be gutted before being weighed. There are prizes for each category (Archery, Muzzle-loading, Regular Big Game) based on the heaviest weight, and the overall heaviest deer in the Contest gets the big prize. Only Adirondack bucks can be entered in the contest. No down state deer are permitted. CRITTER DINNER: A potluck dinner for Members and their families is held in February at the Club House. All dishes are welcome, especially game taken in the recent hunting seasons. PIE SALE The Christmas Pie Sale occurs on the Saturday of the week before Christmas. This has been a traditional fund raiser for about 30 years. A small group of volunteers call the membership by telephone asking each household to make a bake good. We only sell homemade bake goods and feature pies. (If a pie is brought down that is not homemade it does not go into the sale) If the member does not bake pies then they supply homemade cakes, cookies or stollen. Berry and fruit pies sell the best and we get premium prices for our pies. A large berry or fruit pie would be sold in the neighborhood of $18. We know that the costs of making large juicy pies is not cheap and we value the labor and love in the making of such pies. Mincemeat is another big seller (we need to know if it is beef or venison) as is Coconut Cream. Some members specialize in some way. One member is known for her monster cookies while another makes sugarless baked goods for diabetics. Over the years we have changed locations. It was in Ames for quite a while and when they went out of business it was in Blueline Sports Shop for several years. In 2013 we were in Ace Hardware and did well. Bakers bring their pies to us between 8:30-10:00am and we sell from 9:00 until about 1:00pm. Bob Brown has chaired it for several years. To run the event, four phone callers are needed two weeks before the event and 4-6 members to run the event on sale day. If a member cannot bake an item for the sale we ask that they come down and buy a bake-goods on the day of the sale. We pride ourselves in having the best bakers in the area.
Saranac Lake Fish & Game Club