SARANAC LAKE FISH AND GAME CLUB
August 2021 Newsletter
Upcoming Events:
August 14th Member Fun Shoot
August 13th & 14th Malone Fair
August 28th 10 Gun Raffle
ONGOING EVENTS AT THE CLUB
Archery: Thursday (4pm-7pm)
PRIVATE RENTALS (club is closed):
August 20th.
August 28th 10 Gun Raffle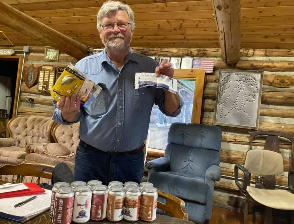 Our Last Member Meeting Was Sponsored!
David Aldrich won this months member meeting!
Great Adirondack Brewing Company - two six pack of beer, Two gift certificates of $20 each
Blue Line Sports LLC- Three fishing lures
Please be sure to support our sponsors, and remember to win a door prize you must attend the member meeting!
10 Gun Raffle: REMEMBER: You can buy your 10 Gun raffle tickets online at click here.
The 2021 Hunting season is just around the corner! Check out the hunting dates on the DEC website. September 20th - Ruffed Grouse opens
Septmeber 27th - White tail Archery
October 1st - Turkey, Cottontail, Hair, Pheasant.
October 23rd - Regular white tail.

For more info Visit https://www.dec.ny.gov/docs/wildlife_pdf/hunt season21.pdf

Interested in renting the club for your next banquet, reception, meeting or other event? Our facilities include our 25' X 65' indoor room, a fully equipped kitchen, ladies and gentleman's lavatories, the outside field with river access and of course, that amazing view!
Please contact the club for detailed information and availability at:
info@slfgc.com