SARANAC LAKE FISH AND GAME CLUB
NEWSLETTER January 2015
Sporter Rifle: Monday Nights, @ 5 PM Come on down and shoot we are doing well in the standings
Pistol Shooting: Tues Nights @5 PM - You must have a pistol permit to shoot!
Feb 4th Board Meeting
Feb 5th Regular Meeting @7 pm
Franklin County Federation of Fish and Game Clubs Meeting Feb 19th Charlie's Inn Lake Clear
Critter Dinner Feb 20th, 6 PM at the club.
Colby Classic March 7th and 8th
Attention! Please leave the gate open for the rest of the winter so the plow guys can do their job when it snows.
NEW GOINGS ON: We are going to start holding "How to" Clinics once a month at the club. If you have any ideas or can teach a clinic, please contact Ralf Hartman @420-2424
CAMPERSHIP: Anyone wanting to send a child to Camp Colby for Youth camp 11- 13 years old and Teen Ecology Camp for 14-17 years old please contact the club president at 518-201-4009 for more information.
Robert Knobel will do tool sharpening for anyone that needs anything with an edge sharpened. He is willing to donate a portion of his earnings back to the club. Please support him in his fund raising endeavor. He can be reached at: 518-524-3580
PRESIDENTS CORNER: So as many of you know we have a woman as the Club President. I thank you for your vote of confidence and ask for your support in the coming year. As I look at the New Year in front of us I see the vast potential of members that can help us move forward. We need members to help with our various fund raisers, working days, and other events the club needs help with. Many of the people that have helped over the years are looking to hand their knowledge to a new group of volunteers. They are advancing in years and with the accompanying pains that brings they would like to sit by the fires on cold nights and know that the time they have put into the club to work out the kinks have been passed on to new people that want to carry on the traditions the club has upheld for many years. Please don't be afraid to volunteer. There are events that raise funds for your club, this is your club, get involved. We are one of the largest clubs in this area, so let's keep growing and move forward.
Cecilia
Blast from the past (from the Club newsletter,Vol. 3, No. 1 August1st,1947):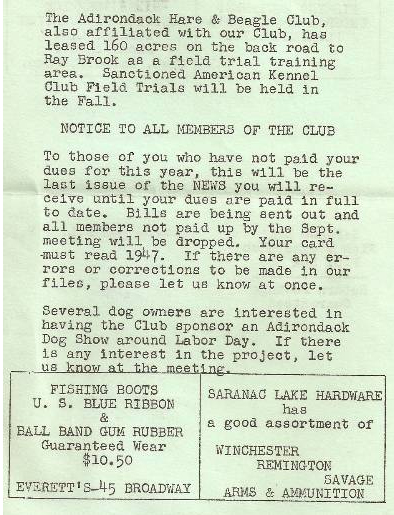 Do you know when and where the club was started and what the town officials said about it?
How to reach us:
President: Cecilia Martin 518-201-4009
Vice President: Jim Jones 518-891-4586
Secretary: Theresa Trudell 518-891-4505
Treasurer: Ralf Hartman 518-420-2424
Membership Secretary: Claude Premo 518-891-3580
Saranac Lake Fish & Game Club
You are the visitor. Thank You for stopping by.