SARANAC LAKE FISH AND GAME CLUB
NEWSLETTER August 2015
Calendar:
August 31st to Sept. 4th: the Ranges will be closed, both inside and outside until 4:00 pm, the Essex County Court Officers will be using the ranges and the club house.
Sept 2nd: Board Meeting 7:00 pm
Sept 3rd: Regular Members Meeting 7:00 pm. All are welcome
Sept. 11th: Ed Kanze, a local Naturalist, will be holding a Tree Identification Course from 7:00 pm until 8: 30 pm. All are welcomed, bring a friend, this is open to the public.
September 21st: Practice for Sporter Rifle
September 28th: Sporter Rifle Starts
Presidents Corner: Thank you to all that helped at the Malone Fair and the Tupper Lake Flea Market for setting up, taking down and helping to sell tickets. As of right now the TRAP RANGE is shut down. That being said, is there anyone that would like to chair a land buying committee? If so please contact me, if you know of anyone that has a fairly large parcel of land available to buy that is not near houses.
We had our 10 Gun Raffle and Picnic this Sat, August 22, 2015. It was very well attended and the weather was nice. Thank you to all that helped!!!
There is also interest in having a Trapper Safety Course held at the club if you are interested contact me. If you can help please let me know. If you contacted me via facebook already you do not need to re-contact me.
Sporter Rifle: Practice will be September 21, at the club inside range. Official shoot starts September 28th. All are welcome, bring your .22 rifle and join the fun.
Pistol League: Is shooting every week, if you want to join then show up on Tuesday evenings, you must have a pistol permit to shoot.
Trap Range: Trap has been going very well with lots of new people showing up to shoot, however it has been suspended until further notice due to concerns about risks to the Club.
Club T-Shirts:
We will be taking orders for club t-shirts, they will be grey with our club logo on the back and our club name on the front. The shirts will sell for $18.00 each, if you need a 2 Xl or larger they will sell for $20.00 each. I will be taking orders in advance so please contact me with your size and if you want your name printed on the front it is another $2.00. We will not be ordering these in quantities. If you want a t-shirt you must call me: Cecilia-518- 201-4009, please leave a message if I do not answer, I will need your name, t-shirt size and if you want your name on the front as well and how it is to be spelled.
10 Gun Raffle Winners: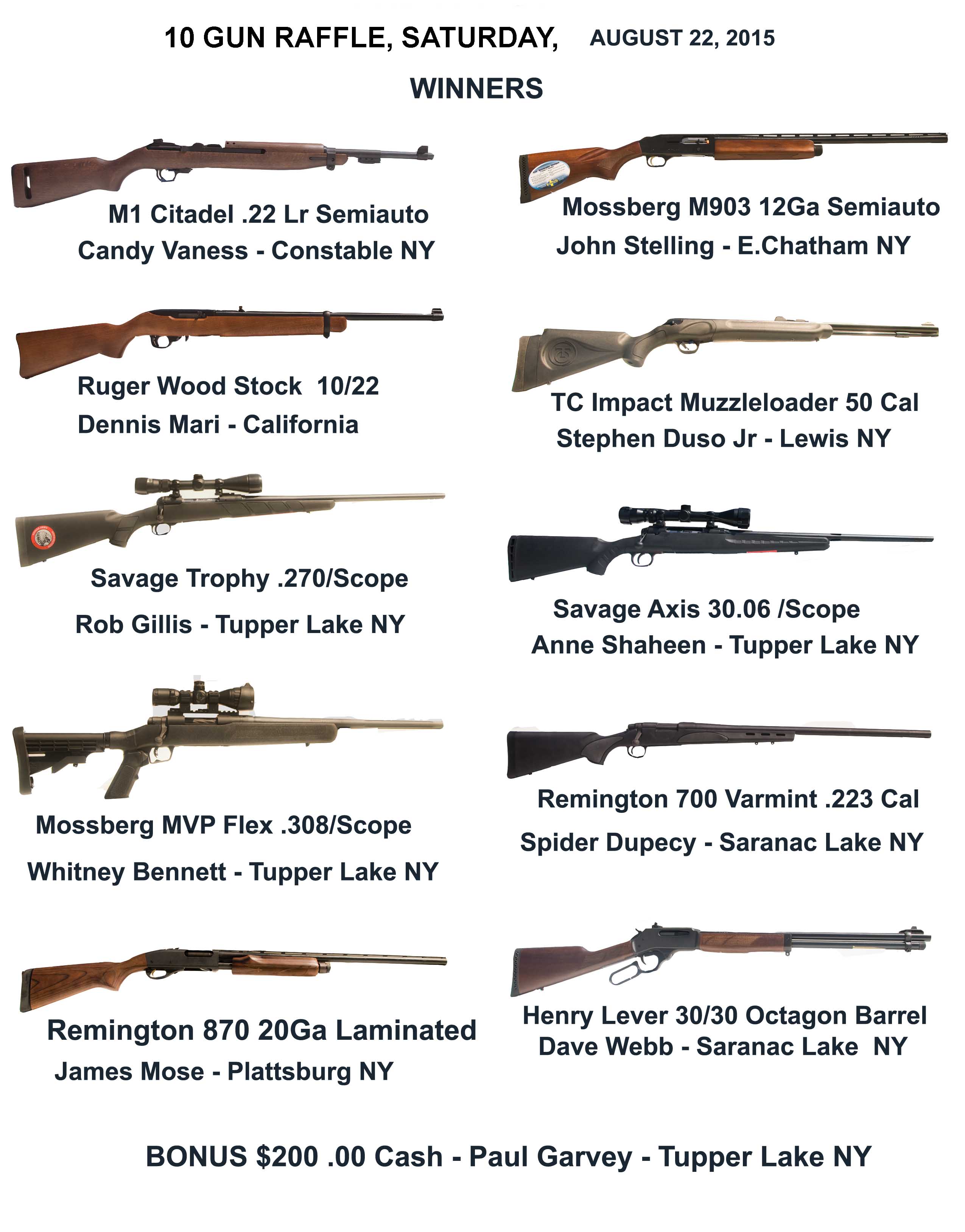 How to Reach us:
Pres.: Cecilia Martin 518-201-4009
V. Pres.: Jim Jones 518-891- 4586
Sec.: Theresa Trudell 518-891-4505
Treas.: Ralf Hartmann 518-420-2424
Membership Secretary: Claude Premo 518-891-3580